Title: BEAUTIFUL COLLISION Columbia / Sony Music NZ

Catalogue #:5084032000


Release date (NZ): July 1.
Australia: July 22.
US: September.
UK/Europe: Early 2003.
First single:
'Get Some Sleep'
At NZ radio now! CD single out now in NZ

Producer: Bic Runga.
BEAUTIFUL COLLISION: LATEST NEWS
COVER | TRACKLISTING | SINGLES | PRESS RELEASES | MUSICIANS
---
The album's out now in NZ.
---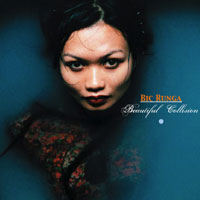 ---
When I See You Smile
Get Some Sleep
Something Good
Precious Things
The Be All And End All
Election Night
Honest Goodbyes
She Left On A Monday
Beautiful Collision
Listening For The Weather
Counting The Days
Gravity (Night Will Close Us Down)

---
The first single will be 'Get Some Sleep'. Released 17 June 2002. B-sides will be 'You Don't Want To Know' and 'Gracie'.
---
April 15th, 2002 For immediate Release: BIC RUNGA BEAUTIFUL COLLISION New Album Announced
The new BIC RUNGA album BEAUTIFUL COLLISION will be released in New Zealand in early July. BEAUTIFUL COLLISION will be preceded by the single "Get Some Sleep" in June.
"Get Some Sleep" is the first Bic Runga single since 'Good Morning Baby' (with Dan Wilson) in 2000 . "Get Some Sleep" was first performed at Bic's intimate shows at The Odeon, in Auckland earlier last year.
BEAUTIFUL COLLISION was recorded in Auckland, Los Angeles and New York, produced by Bic and mixed by Michael Brauer (Coldplay, New Radicals, Rolling Stones). 'Beautiful Collision' is Bic's second album and the follow up to her 6x Platinum debut 'Drive'.
---
'Get Some Sleep': Dave Dobbyn (guitars), Milan and Tim from Pluto (background vocals).
Neil Finn (background vocals on 'The Be All and End All')
Joey Waronker (drummer for R.E.M)
Sebastian Steinburg (bass)
Andrew Morton (aka Sub Mariner) - programming on 2 tracks, synth and keyboards on another.
---